Knowledge of Socionics — to teachers and school psychologists
Keywords:
socionics, defectology, children, А-model
Abstract
The purpose of article is to pay attention of experts in defectology, first of all the teachers-logopedists, and school psychologists and experts in the psychological-pedagogical centers of help and correction, on necessity of socionical knowledge for achievement of more comfortable and productive training on the program inclusive education. Article is devoted to diagnostics problems, including socionical, at children with the limited possibilities of health.
References
Ле Шан Э. Если ваш ребенок сводит вас с ума.
Горенко Е., Багульник В. Путь к своему я. — М., 2009. — 271с.
Гуленко В., Тыщенко В. Соционика идет в школу. — М., 2010. — 280 с.
Прокофьева Т.Н. Соционика в построении стратегии успешного взаимодействия: умение разбираться в людях и предсказывать их поведение. — М., 2004.
Колягин В., Овчинникова Т. Психолого-педагогическая диагностика детей и подростков с речевыми нарушениями. — М., 2005. — 288с.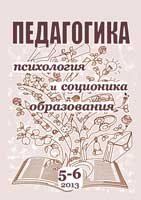 Downloads