Socionics in the educational process
Keywords:
school education, socionics, lecturing process organization, socionic temperament
Abstract
A review of issues of school lecturing system optimization, teaching team balance achievement and particularities of specialized teaching through socionic theory implementation.
References
Гуленко В. В. Гарантии прoдуктивнoгo oбучения. — Киев, 1992.
Гуленко В. В. Менеджмент слаженной команды. Соционика и социоанализ для руководителей. — Новосибирск: РИПЭЛ, 1995.
Гуленко В. В. Соционика в школе: первые шаги. — Киев, 1995.
Гуленко В. В. Социотипы в коммуникации. — Киев, 1992.
Gordon Lawrence. People types and tiger stripes. A practical guide to learning styles. Center for applications of psychological types, inc. 1989.
Keirsey D., Bates M. Please Understand Me. Character and Temperament Types. Gnosoloogy Books Ltd. 1984.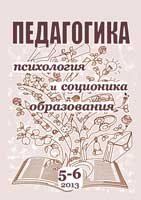 Downloads