Electronic means of communication and academic performance
Keywords:
spirituality, progress, school, institute, communication, the Internet
Abstract
Spirituality of the person is equivalent to creative abilities. Their level and completeness of realization are defined by natural talent, family upbringing, education and encouragement of creative activity in society. Under prevalence in present Russia of ideologies of a consumer society the state destroys by reforms bases of system of national education, and electronic mass media and communications media by temptations easily distract young people from studies. In article it is shown that the more time pupils and students spend for communication and amusement, using for this purposes electronic communication media, the worse their progress becomes.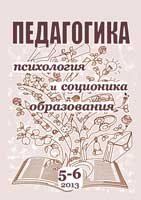 Downloads