Factors of teacher success
Keywords:
competitiveness, pedagogical environment, personality
Abstract
The problem of competitiveness of teacher as the complex phenomenon depending on different factors is considered. The influences of external environment and personality features are analyzed as the basic factors. Different approaches to decision of problem of competitiveness are offered taking into account the modern requirements to the sphere of educational services.
References
Андреев В.И. Конкурентология: учеб. курс для творческого саморазвития конкурентоспособности. — Казань: Центр инновационных технологий, 2004. — 468 с.
Веревкин И.А. Воспитание конкурентоспособной личности будущего учителя // Инновации и традиции в решении проблем модернизации современного oбразования: материалы международной научно-практической конференции 1–30 июня 2010 г.
Чупрова О.Ф. Формирование конкурентоспособности личности будущего учителя в процессе экспертно-аналитической деятельности: Дис. канд. пед. наук.: 13.00.01. — Иркутск, 2004. — 207 c. — РГБ ОД, 61:04-13/1244.
Овчаров А.О. На шляху до oптимізації діяльності організаційних структур. // Вісник національної Академії наук України. — 1998. — №11-12. — С. 73-80.
Швейцер А. Культура и этика. / Пер. Н.А. Захарченко и Г.В. Колшанского. — М.: Прогресс, 1973.
Голднер Э. Анализ организации // Социология сегодня. Проблемы и перспективы. — М.: Прогресс, 1965. — С. 445-470.
Овчаров А.О. Інформаційна вибірковість у контексті індивідуально-орієнтованих способів психологічного впливу. // Соціальна психологія. — 2010. — №4(42). — С. 86-94.
Митина Л.М. Психология развития конкурентоспособной личности. — М.; Воронеж, 2002. — 400 с.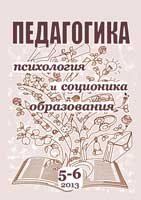 Downloads